About Our Library
The Alternative Press Center developed one of the largest private collections of alternative publications in the United States, with some titles going back to the late 1960s and early 1970s. The collection also includes books.

This is a library with a social conscience, offering alternative perspectives and information that are often difficult to find in mainstream libraries. The collection is open to the public and includes the most recent five years.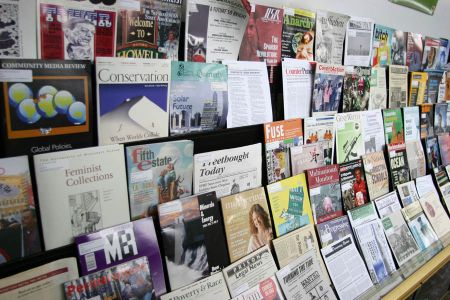 Located at 2239 Kirk Ave., Baltimore, MD, 21218
Hours: Monday 12-4pm, Saturday 12-4pm, or contact us.
Mailing address: PO Box 13127 Baltimore, MD 21203
Phone: 312.451.8133
Email: altpress@altpress.org
The back issues of the Alternative Press Center collection are archived at the Special Collections of the Albin O. Kuhn Library & Gallery, a research library open to the public at the University of Maryland, Baltimore County (UMBC).
The Alternative Press Index (API) is available online (1991-) and in print (1969-), and titles are catalogued and appear in the UMBC Catalog Archive by selecting "Alternative Press Center" from the Named Collections drop-down. You may search for a specific title, for all APC titles held at UMBC, or for a particular article.
For more information about hours and access to the collection, please contact UMBC Special Collections at speccoll@umbc.edu or 410-455-2353 or visit http://aok.lib.umbc.edu/specoll/index.php.
In addition, a major selection of titles from the collection is available on microfilm through UMI as part of their Underground Press series. For information on ordering, please contact UMI, 300 North Zeeb Rd., Ann Arbor, MI, 48106 or call (800) 521-0600.

The APC book collection includes 1,800 titles catalogued with LC numbers. Browse this site to see what is available.